MountainStar Healthcare units recognized for nursing excellence
Ten total units at five Utah hospitals honored by HCA Healthcare.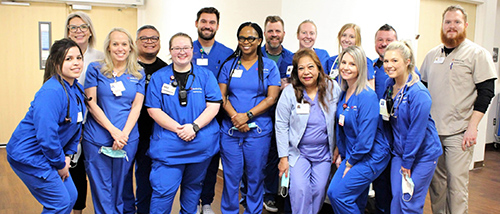 Salt Lake City, Utah — Utah health system MountainStar Healthcare announced that ten of its nursing units have been recognized as recipients or honorees of the 2022 HCA Healthcare Unit of Distinction (UOD) Award program. Five Utah hospitals received recognition in the annual program that recognizes and rewards exemplary nursing units at HCA Healthcare sites of care. The Unit of Distinction designation is achieved through measurable, exemplary performance in the strategic areas of advocacy and leadership, consistency in nursing practice and operations and leveraging scale to improve patient care.
The eight MountainStar Healthcare hospitals and dozens of other care sites serving Utahns are part of HCA Healthcare, which launched the Unit of Distinction Awards in 2015 to top-performing nursing units across its 2,300 sites of care.
Three Utah units earned Unit of Distinction Awards, including the Labor & Delivery unit at Brigham City Community Hospital which was recognized as having the best overall ranking of all Perinatal Services units across HCA Healthcare for 2022. Cache Valley Hospital's Women's Services unit also ranked in the top 5% of Perinatal Services units, and Lakeview Hospital's Post-Anesthesia Care Unit ranked in the top 5% of post-surgery services units.
Additionally, seven units at Utah hospitals earned honorable mention designations, which place them in the top 6-10% for their respective areas of care. They are: the Behavioral Health Unit, Emergency Department and Acute Rehabilitation Center at St. Mark's Hospital; the Operating Room and Medical-Surgical units at Lakeview Hospital; and the Surgical Services unit at Mountain View Hospital.
"Each year we look forward to celebrating the selfless individuals who continually show up for our patients across the country," said Sammie Mosier, DHA, MA, BSN, NE-BC, senior vice president and chief nurse executive of HCA Healthcare. "The Unit of Distinction program celebrates HCA Healthcare's many exemplary nursing units and raises our standard of nursing excellence every year. Congratulations to this year's winners."
With more than 2,300 sites of care, HCA Healthcare's more than 93,000 nurses have abundant opportunity to choose work across a wide spectrum of clinical and non-clinical settings. HCA Healthcare supports and invests in nursing with leading-edge technologies and increased access to clinical education and professional development opportunities to help make HCA Healthcare a premier career destination for nurses.
"We are excited to have so many of our extraordinary caregivers recognized for their commitment to nursing excellence," said Jen Wagenaar, chief nursing executive for MountainStar Healthcare. "I want to congratulate all the nurses, leaders and teams who received this recognition for the way they exemplify our mission of caring for people and improving lives."
Location:
Brigham City Community Hospital, Cache Valley Hospital, St. Mark's Hospital, MountainView Hospital
Related Newsroom Articles